Bay Area Older Adults' Valentine's
Chocolate and Wine Tasting Trip

Date and Time: Thursday February 10, 2022 from 9:00 AM (departure) to 4:30 PM (return)
Meeting Location: Saratoga CA
Fee: $130 per person for Premium Members, $140 per person for Basic Members and $150 per person for non–members. Fee includes motorcoach transportation, chocolate tour & tasting, lunch, wine tasting, all gratuities and two tour leaders.
How to Register: Space is limited so reserve your spot early! Please register using the REGISTER button at the end of the page.
If you have any questions, please email us at share@bayareaolderadults.org
ITINERARY
Please note:
The bus driver and tour guides have been fully vaccinated.

Everyone must show proof of vaccination (paper or digital), and wear masks on bus and during indoor events when not eating or drinking.
---
Chocolate Heaven
---
Our first stop is award-winning Mutari Chocolate House and Factory that sources ethically traded cacao directly from farms in Ecuador, India, Peru, Honduras, Bolivia and Madagascar. Owners Katy Oursler and Stephen Beaumier are gourmet chocolate makers to the core and hand grind single-origin cacao beans to create their small batch drinking chocolate, confections and baked goods. We will be split into two groups for a 90 minute tour and tasting, where we will
Enjoy a cup of their single origin hot chocolate
Learn about the exotic places they visit around the world to source the beans
Learn about cacao trees, the regions where they are grown, the process of choosing the beans and how to make chocolate
Take a factory tour
Experience an in-depth tasting of their single origin chocolate bars
Savor an in-house made truffle
There will be time to purchase bars, truffles, hot chocolate and baked goods after the tour and tasting.

Mutari's Heavenly Chocolate
---
Picnic Lunch
---
Next, we stop at Seacliff State Beach to enjoy a social picnic lunch at a sheltered picnic area near the pier. If time permits, you can take short walk by the beach.
Seacliff State Beach & Pier
---
Wine Tasting
---
Our last stop is Bargetto Winery that began with brothers Phillip and John Bargetto who emigrated in 1891 from Castelnuovo Don Bosco, a small town in the Piedmont region of northern Italy. They started producing hand-crafted wines in San Francisco, then moved to Soquel in 1917. After prohibition, they began growing grapes in the Santa Cruz Mountains. They specialize in producing estate grown varietals of Chardonnay, Pinot Noir, and Pinot Grigio. In keeping with their family heritage, they mix northern Italian varietals into some of their wines. We will spend 90 minutes learning about the history of the winery and tasting five of their award-winning wines in their private barrel room which overlooks Soquel Creek.
Bargetto Wines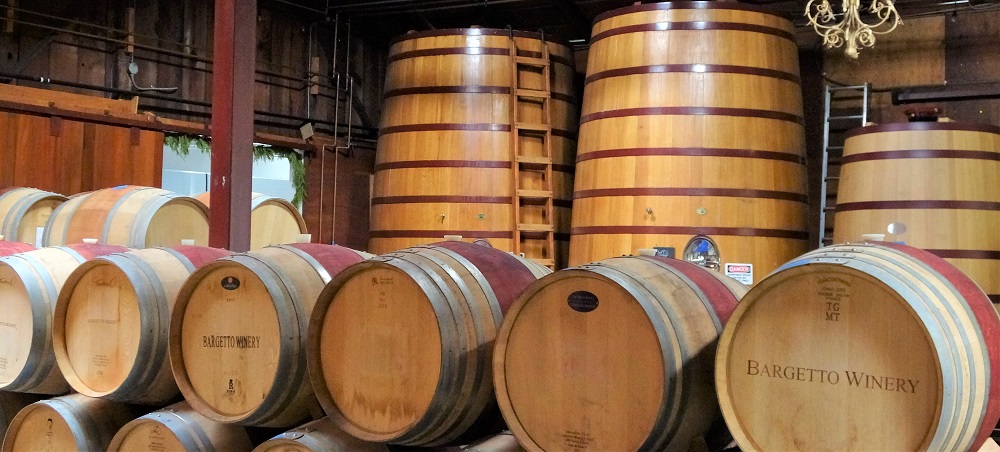 Bargetto Barrel Room
Please click the registration button below to register for the day trip.